---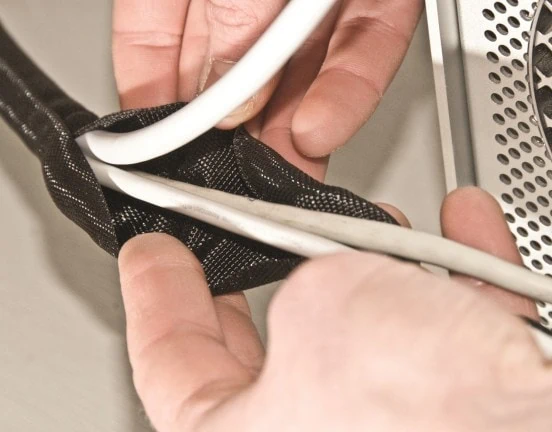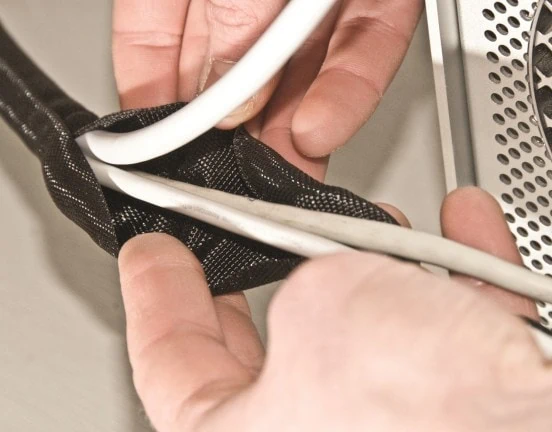 Actions
WAB-GP is a general purpose, self-closing, self-extinguishing polyester woven wrap with overlap. It is highly abrasion resistant, has good noise dampening characteristics and protects from mechanical degradation. Available in black, with a continuous operating temperature up to +125°C, it comes in a range of sizes up to 38mm as standard and can be cut as required.
This halogen free, woven wrap-around sleeve has been designed to enclose wires, cabling, pipes, hoses and foam insulation to protect from abrasion and touch conditions in vibrating installations. The blend of monofilament and multifilament polyester fibres are formed into sleeving with snap-back memory that causes the sleeve to self-close. It is used in many different applications including electronic communication, power systems and modular harness assemblies. It is an easy to install, flexible solution which provides a professional finish and great coverage on many cable management, retro-fit, on and off installation and rework projects and is widely used in automotive and industrial sectors.
Technical Data
---
Operating Temperature: -50°C-+ 125°C
Flame Retardant: Yes
Colours:
Sizes: 5 - 50
Packing: Coils, cut to length
Approvals: RoHS Compliant
Applications / Industries:

General
Commercial
Electrical
Electronics
Industrial
Mechanical
Automotive
Properties
Typical Values
Test Methods
General
Operating Temperature
-50°C - + 125°C
Melt temperature
250°C
Monofilament thickness
Woven
Thermal
Flammability
Self -extinguishing,type B
FMVSS 302, D45 1333
Chemical
Chemical resistance
Unaffected by most chemicals
Toxicity
Halogen free, I3-F1
NF F 16-101 & 16 102
Opacity
Low smoke density
Free Artwork service
As part of the fully comprehensive print process, we offer a free artwork service.
Enquire Now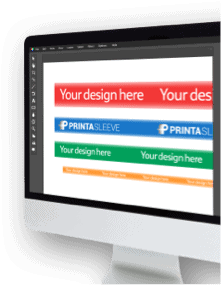 Cable Identification Service
We offer a complete service based on our many years of experience and development in this highly specialised field.
Enquire Now