---
Recommended for cutting braided sleeving and cable jacket, these hot knife cutters have the capacity to cut up to 200mm flatwidth and are available in a range of sizes and powers.
Electrically powered hot knife cutters cut and seal braided sleeving, webbing, ropes and cords made from Polyester, Nylon, Terylene, Polypropylene and most other man-made fibres. The mounted hot blade enables users to draw the braided sleeving across the knife blade under tension.  Both hands are then free to manipulate the sleeving and to seal and flare the ends. Cut ends are fused together minimising any tendency to fray. They are ready to use within 60 seconds of being switched on and come fitted with a two metre mains cable. Constructed of steel with a Polyester coating and an illuminated on/off switch, they have pre placed screw holes for bench mounting if required.  The cutting blade is easily removed for cleaning or replacement.  For use in well ventilated areas.
Key Information
---
Suitable materials: Polyester, Nylon, Terylene, Polypropylene and most other man-made fibres
Cutting Capacity: Up to 200mm flatwidth
Construction: Removable cutting blades, steel with polyester coating, mains operated, can be bench mounted if required
Free Artwork service
As part of the fully comprehensive print process, we offer a free artwork service.
Enquire Now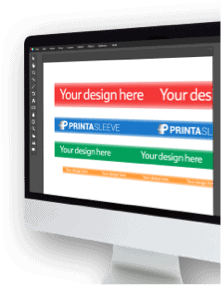 Cable Identification Service
We offer a complete service based on our many years of experience and development in this highly specialised field.
Enquire Now